Sheriff Auctions
Sheriff auctions are public foreclosure auctions where homes in foreclosure are sold to the highest bidder. In some states, legislation requires that the Sheriff conduct and manage these auctions, which is why they are referred to as Sheriff foreclosure sales or auctions. Whatever you call them, however, they can be a great way to buy real estate.
Where are Auctions Held?
Auctions are held across the country and it is possible to buy foreclosure properties at these sales that are 10%, 30% and even 50% below market value. Since the sales are open to the public, it does not matter whether you are a homebuyer, investors, experienced real estate buyer or a first-time home buyer. You can still save money and take part.
Auction Laws Related to Foreclosures
Auctions are regulated by state laws, and these generally state that a home can be auctioned off 90 days to 12 months after a Notice of Default or Lis Pendens has been delivered to the homeowner warning them of repossession. In all states, the place, time and date of the auction must be publicly announced, so you can often find out about these auctions through newspaper notices or through notices posted in the local courthouse.
Auctions are designed to help the lender quickly sell distressed properties, and for this reason the starting price on properties sold at auction tends to be low. However, since auctions draw many investors and buyers, the starting prices do not always remain low. It is a good idea to have a property well inspected before you arrive at an auction. That way, you can set a bid limit for yourself to ensure that you do not overpay for a property.
Reducing Foreclosure Risks
As with any investment, buying property at auction does carry risks. In most cases, down payments on properties sold at auction are non-refundable. As well, virtually all foreclosures sold via auction are sold without warranties of any kind, on a strict "as is" basis. To prevent costly mistakes, it is a good idea to learn as much as you can about a property before you place a bid.
If you want to learn more about Sheriff auctions or want to start browsing listings of foreclosures today, start your 7-day trial and view our listings and resources at DistressedPropertiesSale.com. We have all you need to get started in foreclosures.
Click on the Map to Start Your Search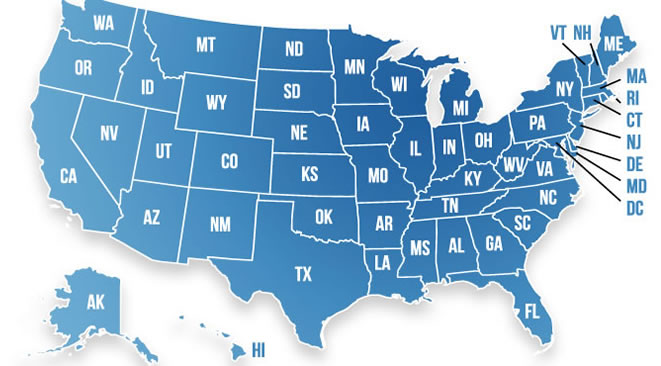 Search Bank Foreclosures by Top Cities